Go-hub Crystalyte 408 Electric Bike Kit – 48v/12ah 700c Front Hub. Hard To Find!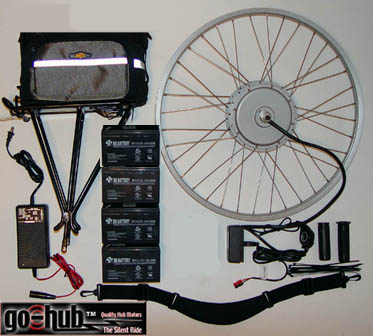 This is an e-bike kit, purchased in 2008 from Go-Hub Motors, made by Crystalyte. This, if you are not familiar, is the Cadillac of e-bike kits. Don't be fooled by those Hong Kong kits -- this is a precision-tested feat of engineering.
It has only been installed once, on my 700c-wheel Giant Cypress bike. The kit has only seen about 30 road miles.
Why sell? I live in an urban area without a lot of great bike trails, and I just wasn't getting the use out of it that I wanted.
I could get the e-bicycle up to 30mph going downhill (and I'm a BIG guy) -- and 30mph on a street bike is REALLY fast!
This kit was originally purchased for over $750, including the SLA batteries. The SLA (sealed lead-acid) are included, but they are the only portion of this that I will not guarantee. It has been a few years since I charged them up and used them, you see, and I'm not sure if they'll work. But I have visually inspected them, and the battery housing is still sound; good as new. THE PRICE FOR THESE BATTERIES IS NOT INCLUDED IN THE AUCTION PRICE.
I'm also including a never-installed, after-market torque rod for the front wheel fork (it's the "J"-shaped contraption in the pictures). I purchased it so a quick acceleration wouldn't bend the front wheel fork... but I never got around to installing it.
I'm also including the optional safety brake levers, which plug into the controller and automatically kill the motor every time you press the brakes.
The low profile go-hub battery pack trunk features a built in key switch, charger/accessory expandable top, side handle, reflective safety strips, and velcro straps. Charging is done using the same Anderson connector that is used for the main power to the controller. When charging with this bag the key must be in the ON position.
(Also, the tire on the hub in the pictures is mine, and is not included in the sale. Sorry about that. If you're putting this on your 700c-wheel bike, however, your standard tire will fit just fine.)
The kit is a 48V/12aH, which means you get more speed and about 35% more road time than with a standard 36V/10aH kit.
The finished bicycle shown in the picture is not mine; it's just an example of what a finished kit will look like.
For more detailed information, I recommend that you Google "largoscooters," and click on the Go-hub Electric Conversion Kits section.
You can spend less on an e-bike kit, but you won't get anywhere near this quality.
Good luck on the auction! Fun and low transport costs await you!
In answer to some questions I've received:
I used a couple of website photos here just for illustration purposes; there are 4 SLA BATTERIES included, not 3.
The charger is included with the battery bag.
It is definitely a 700c hub, not a 26-inch as shown in the full kit picture. I guarantee it.
Similar Items For Sale
Like this post? Subscribe to my RSS feed and get loads more!